When in Singapore: Must-try Singapore Dishes on a Budget.. from a Pinay's tastebuds..
9:22 AM
So I am back in Singapore and since I missed quite a lot of their local dish, I can say its really ruining my diet attempts.. I'm mostly craving to get a taste of these dishes.. most have already been perfected by the hawker centre food stalls here and such, there's no need to look for an expensive restaurant to sample it when you're here on tour, and on a budget..


1. Satay - pronounced as sah-tey, is similar to the barbecue that we Filipinos were accustomed to or smaller version of kebabs. The meat is marinated then grilled. Far from what we are used to, pork barbecues = vinegar or chicken barbecue = Java sauce.. Satay is served with a special peanut sauce, cucumbers and onions with optional ketupat
(rice cake).. It is the sauce that always leaves me craving for more..


For those who are not into pork, most of the stalls also prepare it in chicken,goat, mutton, beef, fish or tofu.






2. Chicken Rice - in the Philippines I've tried finding the same taste from Hainanese Delights, Kenny Rogers, Orchard Road, Wee Nam Kee, The Chicken Rice Shop but they cannot do justice to Singapore's Hainanese Chicken Rice.. Other variations would be: Roasted, Lemon Chicken and there stalls that also sells duck and roasted pork (much like our Lechon Kawali)








3. Curry'O from Old Chang Kee - i saw an Old Chang Kee stall before at the Manila Ocean Park, im just not sure whether they grew in number in the Phils. Curry'O is similar to our empanadas, but more special because of its slightly spicy curry flavor and Egg!


If you're strolling along the malls and in need of quick snack fix, other Must-try are: Chicken Mushroom'O, Sotong on Stick (fried cuttlefish)








4. Popiah - the content is a lot like our Lumpiang Sariwa but the wrap is like our Lumpia wrapper.. this sweet sauce, chili sauce, minced garlic, turnip , carrots, bean sprouts, Chinese sausage, shredded egg, crushed peanuts. I could eat it everyday, two wraps a day.. Really yummy, it looks healthy to me and diet-friendly..








5. Roti Prata - Roti prata is an Indian specialty made from flour , somewhat like our lumpia wrapper but thicker and more flavorful. Most prata shops lets you see the prata chef do his magic (flatten the dough before twirling the dough in the air to stretch it) so its fun to watch while on queue and you get to see as well if he's preparing your prata perfectly and cleanly :)


The resulting pancake is then fried on a griddle, flipped until golden brown, then served. Prata is best mixed with cheese and egg.. then dipped in curry gravy..

The healthier alternative is chapati which is made of wheat as I've been told. In Indonesia, they prepare it as a dessert, much like a crepe..
6. Ban Mian - this started my love for noodle soups. A hearty bowl of handmade
Al Dente noodles, comforting soup,
minced and sliced pork, ikan bilis, and cai xin and egg.
7. Char Kway Teow -
sweet-savory stir-fried flat rice noodles with multiple ingredients. I don't know what other spices they use but obviously used were
light and dark soy sauce, bean sprouts, Chinese chives, Chinese sausages and cockles. Sometimes it comes with egg, shrimps and chili, but i prefer less chili and no shrimp at all.
8. Sambal Stingray - must-try! best bought from Lau Pa Sat at night time or Makansutra.. I often feel guilty thinking that these smiling stingrays might get extinct someday.. but its hard to resist.

Grilled stingray is served in banana leaves with sambal on top.

Sambal is like our spicy alamang, chili paste blended with spices and belachan (fermented shrimp paste).

Just

a squeeze of lime or calamansi and its all good!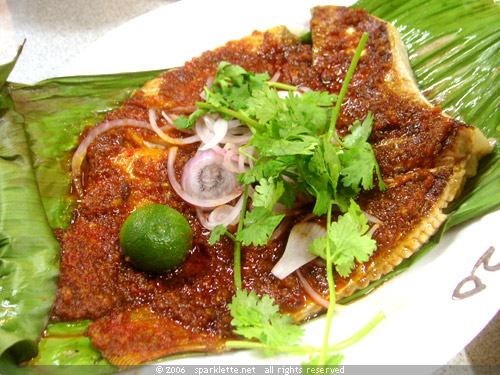 9. Kaya Toast - my best morning and merienda pick-me-up.. it is best with kopi or teh tarik..

Kaya is like our coco jam, but i can taste an additional custard to it, making it sweet and fragrant. They slather it onto toasted tasty bread with butter. Hooray! Toast Box is already in the Philippines.. i can already taste it in my mouth just by the photo and description alone.. yum! but really sinful.. you can ask the uncle or the barista to skip the butter to lessen the calories..
10. BBQ Chicken Wings - best bought from Makansutra and Food Republic.. its full of flavor.. and best ate with your clean hands.. its finger lickin goodness!
========================================================================
If you are into seafood, sorry to disappoint you that there were no seafood dishes among the above favorites.. I'd rather skip them than risk any possibility of getting allergies.. My housemates and previous colleagues swear by these:
Cereal Prawns

Singapore Chili Crab

Hokkien Mee
oohhh how they make me feel like im missing out on something really good whenever they order these..
That's it! make sure you don't miss these on your next or future Singapore food trip.. :)